The word workplace has taken a whole new definition post-pandemic. In the current times, what workplaces are today can be entirely different from how it shapes tomorrow. In the new normal, HR managers have been trying to redefine people management.
The arena for any business is highly competitive, with cutting-edge technology at our fingertips to make businesses grow. While hiring exceptional talent is one thing, using technology to manage people changes the game completely. 
Your workforce should be ready to adapt and adjust to the dynamic nature of the business world. Leaders have to ensure that they not only grow their revenue and sales but also adapt to unpredictable shifts. 
With some workplaces going remote and others hybrid since the pandemic, HR professionals need to ensure that employees are well-equipped to face challenges. And this is where HR tech comes in. It aids in this process and streamlines the whole process for businesses to grow. 
The Human Resource technology market was valued at USD 22.90 billion in 2021 globally. It is estimated to grow by 7.5% from USD 23.98 billion to USD 39.90 billion. With a rising demand for automation of HR processes, businesses can leverage HR tech to grow successfully.
What Is HR Technology? 
Simply put, HR technology is a software that Human Resources department to improve an organization's overall performance. It takes care of all the complex functions ranging from the payroll to hiring new employees and improving the work environment. 
Optimal organizational functioning is not the only goal of HR tech, it also works to improve the employee experience. Because of the Covid-19 pandemic, these days the workforce has seen a shift towards remote and hybrid working models. 
source: HumanResources.net
Thus, a workforce streamlined and managed by technology is inevitable. Leveraging HR tech in the right way can ensure business growth and success for any organization. It also helps HR professionals to streamline the entire managerial process.
Why Is Human Resource Technology Beneficial? 
The world is driven by cutting-edge technology and has taken over the reins in every avenue. Manual work is no longer sought after considering artificial intelligence which takes up most of the work from one's hands. 
Administrative work that used to be time-consuming paperwork is now being replaced with software that integrates everything into one platform. For human resources, HR tech is beneficial because it eases the processes of hiring, onboarding, etc. 
It also makes collecting data and relaying information within the organization easier. Thus, it can help make the decision-making process much more effortless while keeping it cost-effective. 
HR tech is now taking full reigns in the business arena which makes it significant for HR leaders in organizations to leverage HR tech for organizational transformations.
Find Out How Much You Can Save by Switching to Workmates.
Other HR Teams made the switch from Workplace
and save upwards of 60%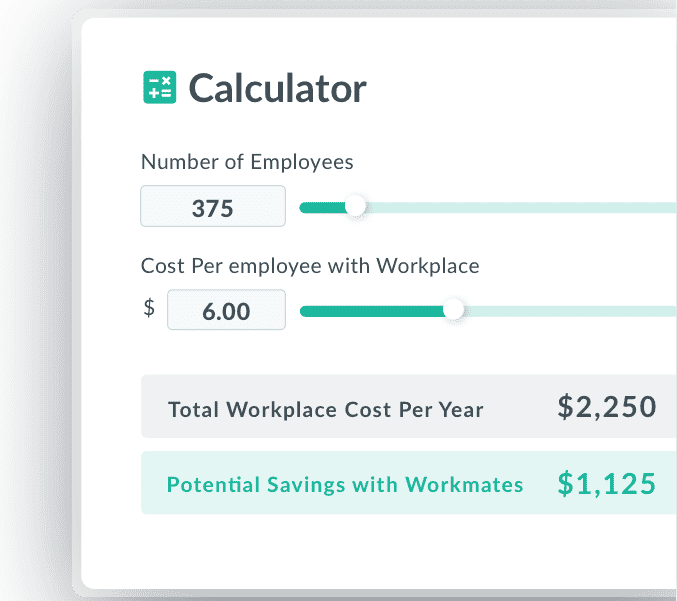 Latest Trends In HR Technology 
With rapid changes in the workforce dynamic, HR strategies need to implement these changes in the best way possible.
Technology has been part and parcel of our lives, and organizations are no strangers to its powerful influence. 
Artificial Intelligence – AI has revolutionized HR practices through systems that provide actionable, real-time insights for better and efficient decision-making.

Efficient Learning – Skill-based learning helps employees keep up with modern technology and overcome challenges to perform their best. 

Employee Wellness – Better productivity and performance are closely tied to employee wellness. As a result, an organization needs a more holistic approach. HR tech has well-rounded tools that focus on different areas of employee well-being. This helps bring out better productivity and performance. 

Employee Engagement – Feedback systems can help organizations keep employees engaged by creating an atmosphere based on their needs. 
For instance, take Air Asia. With their Human Resource technology that has automated, multi-language query resolution, the company saw a 30% drop in employee complaint tickets. Similarly, Coca-Cola Vietnam has a single communication interface that acts as a virtual employee helpdesk. This interface is well integrated with all important HR systems. 
Why Is Choosing The Right HR Technology Important?
The right HR tech for your company might not be the first one you come across. Moreover, if you are convinced to invest in the best software available, then there's no need to rush into it. 
You will need to plan your organization's goals and strategies for success in the long run. This will help you understand where you want to divert your focus – do you want to increase employee engagement? Do you want to ensure the hiring process is seamless and select the right candidates? 
This is as significant as you deciding on a business deal. There are several options to choose from that will align with your company's goals. However, do not rush in and take as much time as you need before making the right choice.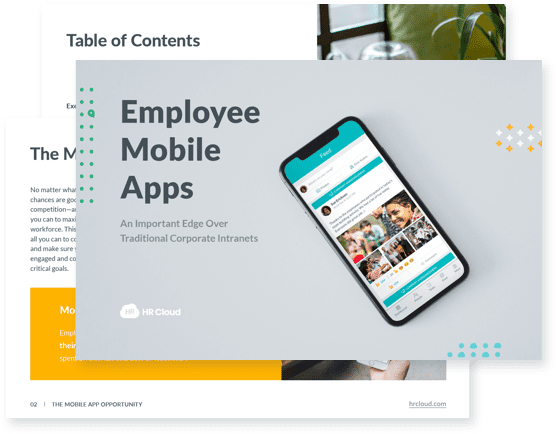 To learn more about giving access to vital HR and work information — even when they're not in the office. Download our ebook now.
7 Ways You Can Use HR Technology To Help Your Business Grow: 
1] Employee Performance and Recognition 
Over 80% of employees prefer to be given immediate feedback that helps reduce errors and improves performance. Human Resource technology helps you keep track of your employee's performance and give them timely feedback to always be on par. 
This ensures the company staff is keeping up with expectations of deadlines. It also helps them keep you informed about their progress. 
Moreover, it also helps track accomplishments and engages in recognition of talents that can be given at the right time. This makes sure that rewards and appraisals for achievements align well with performance systems. 
Specific performance management software in the HR tech space can help with a better communication system. For instance, feedback systems will help manage an employee's expectations, strengths, and weaknesses. This will help them use this information to leverage their work. It gives a holistic evaluation of an individual's performance and can help align goals effectively. 
2] Optimizing The Workforce Through Employee Engagement 
Optimizing performance comes with efficiency in communication. This is necessary, especially with remote working options. Employee engagement helps to optimize the workforce catered to their skills and drives up employee performance. Human Resource Technology includes employee engagement by acquiring feedback that can help keep a check on employee expectations. 
This also helps to prepare for challenges, so that the workforce does not have to suffer from any drastic setbacks.
3] Learning Programs That Keep Employees Up-to-date
Technology is something that is advancing rapidly. This means any workforce needs to be in check with the latest technological advancements. This helps streamline work progress and make things more efficient for the workforce. 
According to Mercer, one in four employees feel their company is taking the initiative to upskill them. Moreover, employees are eager to divert focus toward discussions revolving around their development. 
Thus it becomes important for employees to be in tune and learn new skills from time to time. Helpful learning and developmental programs as part of training for the employees will be beneficial. This will ensure efficiency for the organization overall.
To help your employees grow and learn new skills, you should provide them with the appropriate training. If you have a team that specializes in web-based projects, then make sure they're aware of all aspects from beginning to end. You can do this by providing them with basic technical know-how when it comes to creating, editing, and designing websites.
Another plus point is that digital learning has made it easy to acquire knowledge on the go. Thus, it allows you to create a pool of resources for employees to revisit and brush up on their skills. 
4] Talent Management 
Hiring and onboarding are on one end of the spectrum, whereas retaining is on the other end. HR technology helps in improving the productivity of employees in different ways. 
Best-class talent management systems address several problems that are faced especially in hybrid models:
Improves employee experience through feedback, appraisals, and surveys to assess their satisfaction levels.

An automated process helps cut off the cumbersome work, plan and align company strategies and be available for others when needed. 

Helps in creating targets and expectations that need to be reached by the organization catered toward career progression. 

Help keep a track of an employee's performance management through strengths and weaknesses.
According to Aberdeen Group, organizations with better employee engagement and good talent management were 58% more likely to use performance management software.
This works well with developmental programs because they can create programs specific to an employee. As a result, the employees can learn and develop their skills efficiently. 
This helps in an overall assessment of an employee and creates an experience that is satisfactory for the individual and the organization. 
There are several other software out there that offer similar features to help evaluate performance and increase productivity. 
5] Payroll 
Payroll technology eases the burnout of the staff that takes care of payroll. The technology regulates and manages employee salaries effectively and can give details about their pay.  
An automated payroll can help include an employee in the payroll process as well as remove them. It streamlines the whole process by making sure there is no error and lifts the manual work. This helps allot time to more meaningful work such as HR strategy. 
6] Hiring New Employees 
Hiring is a daunting process in itself. But, with the help of technology, this can be made easier. Automation has made things easier for the recruitment process:
Speeds up the recruitment process so you can get to the best talent faster. 

Dismisses the prospect of a biased judgment toward selecting eligible candidates by filtering through skill, experience levels, and other relevant criteria. 

Digitized arena and optimal virtual assistance for the onboarding process. 
There is software that can aid HR professionals by building a pool of qualified resumes ready. Interviews and other processes can be organized and help scan the top candidates for the role. 
The pandemic has made tremendous changes to the hiring process. This has helped make it easier for HR professionals to hire and retain employees. Around 94% of HR professionals have said that using cutting-edge technology for recruitment software has helped ease the hiring process. 
There are several other features that help you hire the right people for your organization. You can even consider running an employee referral program to broaden your potential candidate pool.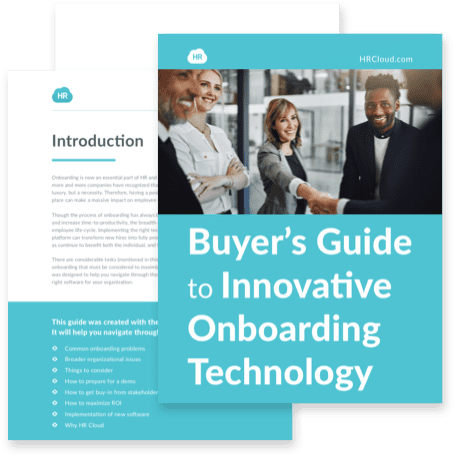 This guide was designed to help you navigate through those difficult tasks and help determine the right software for your organization, download our ebook now.
7] Efficiency In Managing Data 
Keeping a tab of leaves, benefits, payrolls, appraisals, and so on is a tedious, time-consuming task. In this situation, probably a team of individuals is drowning in tons of documentation, managing these systems. 
According to statistics from Finances Online:
83% of employees have to recreate the documents they cannot find.

46% find it time-consuming and challenging to search through these documents.

42% of the documents are not labeled correctly.

41% of information is stored incorrectly. 
These statistics prove that manual work is more error-prone, time-consuming and potentially frustrating. 
Not only does it need a lot of focus, but there might be errors in the data as well. While entering data is one thing, fixing these errors is another. An efficient data management software help HR managers keep their documents and data organized in one place for ease of access. 
 A well-rounded Human Resource technology system will take this work off your hands providing no room for error. It makes the process efficient and ensures you don't have to run through repetitive tasks again. 
There's no doubt that technology will be at the forefront in every field with rapid changes, especially since the pandemic. In such a world that is driven by technology, incorporating such software is unavoidable. 
Artificial intelligence and similar tools help streamlining HR processes and also helps employees upskill. There's no doubt that the future of every company's HR role rests in the hands of efficient software.  
The 40 Best Thank You
Messages for Colleagues
Download our ebook now to learn even more about
building a positive and engaged culture at your company.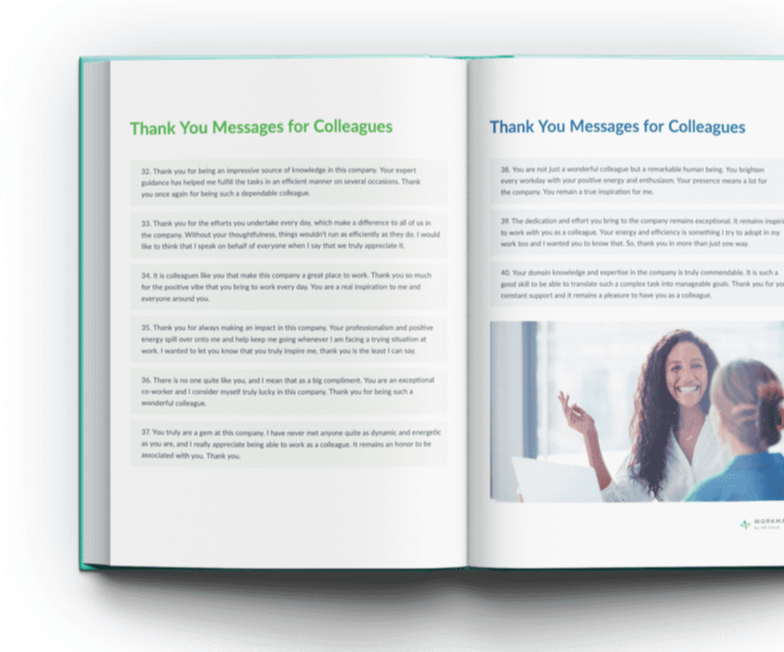 Author Bio:
This article is written by a marketing team member at HR Cloud. HR Cloud is a leading provider of proven HR solutions, including recruiting, onboarding, employee communications & engagement, and rewards & recognition. Our user-friendly software increases employee productivity, delivers time and cost savings, and minimizes compliance risk.