Let's face it. Times are changing and along with it is the way we view work. In today's economy, the needs of employees are changing. Many employees are now willing to stick with companies interested in their personal development and better work-life balance. And companies need to reassess older workplace traditions and move to more modern ones.
 Around the world, the concept of a four-day workweek is gaining popularity rapidly as many employers believe it improves employee engagement, productivity, and work-life balance. But what do employees themselves think about the prospect of moving to a four-day workweek? 
A survey showed that 92% of employees in the United States would happily welcome a shorter workweek. And as we all know, keeping your employees happy is key to the success of your business and achieving your goals.
According to Colin Palfrey, CMO of Crediful, "Many employees are changing the way they want to work, and if you want to keep them happy and committed, then adopting a four-day work week might just be the way to go."
 The days when the traditional 9 to 5 worked for employers and employees are slowly fading away. Many people working 40 hours every week argue that they do not need all that time to finish their job and can achieve the same results by working part-time. 
But how does a reduced work week affect a business's bottom line, particularly during an economic downturn? In this article, we will explore the benefits of this shorter work schedule and the cost savings of a four-day workweek in times of recession.
Advantages of a 4-Day Work Week
 The idea of a four-day workweek has been around for quite some time. Even though it has yet to materialize on a large scale, many companies have been experimenting with it to find out how it can improve employee happiness and productivity and make the workplace more appealing.
Below are some of the numerous benefits of a four-day workweek and why you should consider implementing it in your workplace.
Undoubtedly, many employees will jump at having a four-day workweek and a three-day weekend. By knowing they have a three-day weekend, employees will be happier, more motivated, and more engaged.
 A study found that implementing a flexible working arrangement, like a four-day workweek, and giving employees praise and recognition can significantly increase employee engagement. And It's important to remember that a company's success depends on its worker's level of engagement. 
According to Ben Michael, Practicing Lawyer and Founder of Michael and Associates, "Every company looking to create a happy work environment, produce better quality work and outperform its competitors must continually strive to keep its employees' engagement. And one of the best ways to achieve high employee engagement is by adopting a four-day workweek arrangement." 
HR mistakes impact your entire organization. Learn how to avoid the 12 most common mistakes with our free ebook.
Employee burnout leads to poor performance because employees are less creative and productive and can't give their best. Employees who work too many hours risk higher stress levels and burnout. By reducing the number of hours worked, there will be a significant reduction in the number of employees feeling burned.
Not only does burnout affect employees' mental health, but it also affects their physical health. By transitioning to a four-day workweek, businesses will help employees feel less stressed, happier, and better mentally and physically, enabling them to give 100% every time they show up to work. 
In today's world, it takes more than just a good salary to attract and retain the best talent. Many employees now factor in perks that can improve work-life balance. And one of the most important perks these days is a four-day workweek. 
According to Anthony Martin, Founder and CEO of Choice Mutual, "Many employees give high regard and want to work for companies that show genuine interest in flexible employee schedule and work-life balance. Adopting a four-day work week will surely give you a great competitive advantage when retaining employees."
 In fact, according to a 4 Day Week Global study, 63% of businesses reported that they could attract and retain talent easier with a 4-day week. It is enough evidence to suggest that a four-day workweek is a solid incentive to keep your employees on board. 
Now, more than ever, climate change is a defining issue in our lives, and there is a continuous search for measures to remedy the situation. And one of the many benefits of a four-day workweek is a smaller carbon footprint, which is just what the environment needs. 
Shortening the work week means that employers and employees don't have to commute as much, and large office buildings are used one day less. It might not seem like much, but every reduction in carbon dioxide emissions is a win for us and the environment!
Find Out How Much You Can Save by Switching to Workmates.
Other HR Teams made the switch from Workplace
and save upwards of 60%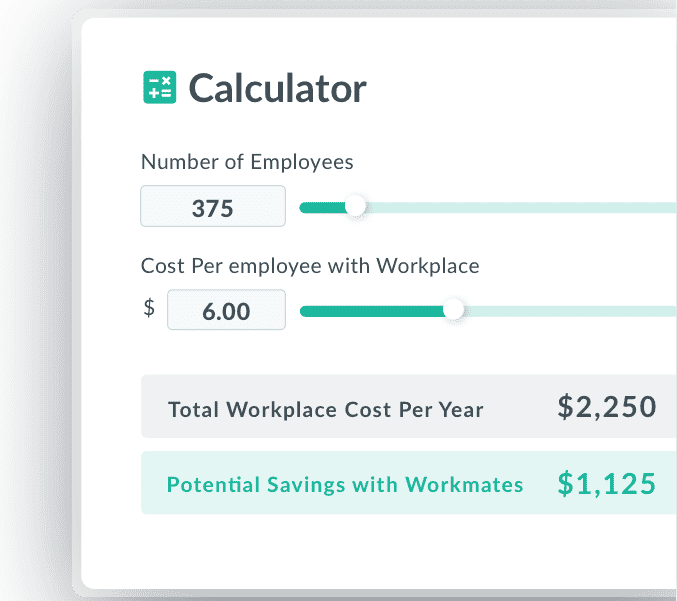 Potential Cost Savings of a 4-day Work Week During Recession
 During an economic downturn, companies must adapt and adopt measures to sustain company growth. A 4-day work week has been proven effective in helping businesses save costs and keep their operations going in times of recession. 
Here are a few potential cost-saving effects of a 4-Day work week.
Increased productivity is the best way a four-day workweek can save you money. If your business is productive, it implies that you are using fewer resources to complete tasks without compromising quality.
 According to Stephan Baldwin, Founder of Assisted Living, "Adopting a four-day work week at your company is a great way to make employees happy and motivate them to give their best to bring more productivity to your business. This way, you'll earn and save more."
 In addition, employees who work five days a week are usually overworked and less productive on average compared to employees who work four days a week. Offering employees a four-day workweek is a great incentive to push them to work harder and more diligently. 
A 4-day work week greatly benefits employees and motivates them to work and stay longer at your company. Thanks to a 4-day work week, you will see a significant rise in employee retention, engagement, and loyalty. And consequently, you will save costs associated with hiring and training new employees on your company culture. 
According to Jim Pendergast, Senior Vice President of altLINE Sobanco, "The best option for a business looking to save on hiring costs is to retain good employees rather than trying to replace them, as this will almost always benefit your business in the long run. If you keep maintaining and building on the talent within your company, success will follow."
 In this era of the Great Resignation, where it is becoming increasingly difficult to recruit quality talent, moving to a four-day workweek can help your company stand out and help keep your current employees happy and productive. 
Shifting to a four-day workweek reduces overhead expenses such as electricity and other office costs. Cutting such costs would save you a lot of money with time. 
In addition, office supplies will last longer, and equipment such as printers, scanners, and copiers will depreciate slower. Fewer work days also mean you have to spend less on Janitorial services. By adopting a four-day work week, you'll be surprised with how much extra you will have in the bank. 
Employee perks are great, but they can quickly consume your budget. But by cutting a day out of the work week, you can reduce the financial impact such perks have on your business.
 For example, some businesses offer their employees commuter benefits, catered lunches, and gym reimbursement. By dropping one day out of the work week, your company will save thousands – if not tens of thousands – on these perks, depending on your size. 
 Conclusion
The four-day workweek will only get more popular as more companies strive to find better ways to cut costs while maintaining or increasing productivity. Even though there is no one-size-fits-all approach to it, taking advantage of the numerous cost-saving opportunities of a four-day workweek is what you need to save in times of recession and propel your business to the next level.
The 40 Best Thank You
Messages for Colleagues
Download our ebook now to learn even more about
building a positive and engaged culture at your company.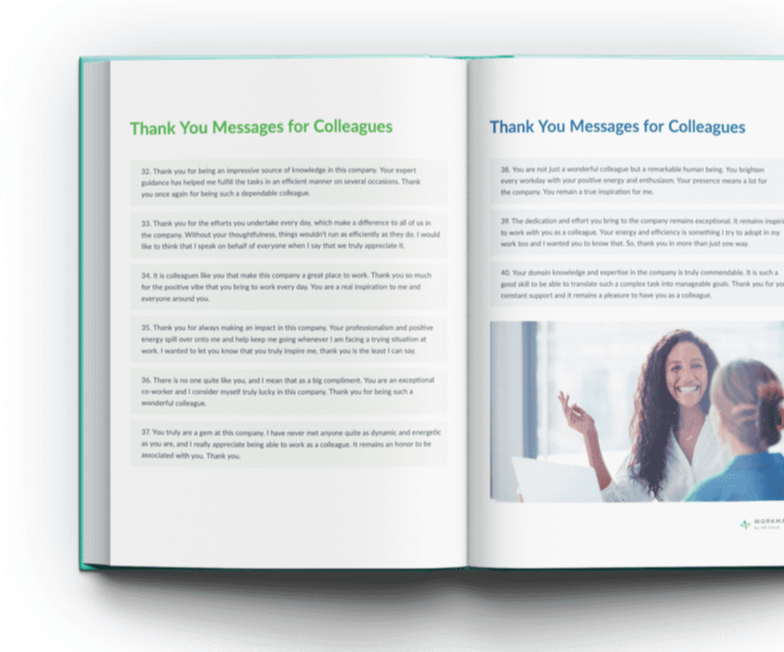 Author Bio:
This article is written by a marketing team member at HR Cloud. HR Cloud is a leading provider of proven HR solutions, including recruiting, onboarding, employee communications & engagement, and rewards & recognition. Our user-friendly software increases employee productivity, delivers time and cost savings, and minimizes compliance risk.