User-generated content is like magic for boosting sales and building a community. But, it has a counterpart, Employee-generated content (EGC). EGC has been highly under-utilized for a good amount of time now. However, it is essential for brands to look out for new employees, and try to retain talent.
What is better than showing off brand authenticity, cultures, and values to the current employees who experience working with you on a daily basis? This type of content is highly authentic and strengthens the internal communication and morale of the brand. Sadly, most companies overlook it and do not give it the importance it deserves. Workmates offer customizable intranet software to improve workplace culture through employee generated content.
In this digital world, brands rely on online channels which can be just another reason to invest in employee or user-generated content. Online reputation management also plays a great role in attracting talented people to an organization. Sharing authentic content from real employees can make recruiting an easy  recruitment process rather than a nightmare. HR and other recruiters face many challenges on a regular basis, and UGC/EGC can help them overcome these challenges without any additional effort. This can be done in the form of engaging animated explainer videos and displayed as animated commercials. 
Let's look at some challenges recruiters face. 
Challenges faced by HR/ recruiters
In this section, we will not only understand some challenges they face, but we will also focus on learning how authentic content from real employees helps them overcome these challenges. 
Attracting the right candidates 
Ever tried to separate sand particles from a bucket full of them? Well, that's just how difficult picking the right candidate from a pool of unqualified people is. You would then understand how limited options you get. You will end up finalizing a person who is perfect at that time, not someone perfect for the job. 
With user-generated or employee-generated content you can ensure that people get a clear idea of how the brand works. They will apply only if they find it fit, ensuring that you get fewer unqualified applications. 
Engaging qualified personnel 
Recruiters often contact good candidates regularly, making it difficult for your email to stand out. Moreover, candidates with hard-to-find skills are already being considered for many other jobs. So, you need to put extra effort to engage them with your brand. 
EGC can include reviews, ratings, testimonials, and other forms of feedback that provide a more authentic and genuine perspective on what it's like to work for the company. By featuring UGC on your website or social media channels, you can give potential candidates a better idea of what to expect if they were to join your organization, which can help to engage and attract them to your company.
Hiring teams want their work done efficiently but as quickly as possible too. Vacant positions cost them money and delay operations, making it even more important for recruiters to find exceptional people faster. Hiring drives can take from a few weeks to months. Hiring teams struggle to reach a consensus, eventually leading up to perfect candidates finding jobs elsewhere. 
User-generated content (UGC) can help to speed up the hiring process by providing potential candidates with more authentic and genuine information about what it's like to work for your company. This can help to attract and engage more qualified candidates, which can in turn lead to a faster and more efficient hiring process. 
For example, if a potential candidate sees positive reviews and ratings from current employees on your website or social media channels, they may be more likely to apply for a job with your company, knowing that they will be joining a positive and supportive work environment. 
Additionally, UGC can also provide valuable insights and feedback that can help your company improve its hiring processes and make them more efficient and effective.
A good recruiter does not simply attract and engage better candidates, they also make sure the new people are aware of the company. They try to engage with them and develop a bond with them as well. 
Did you know that companies that invest in building an employer-candidate bond, are 3 times more likely to conduct a quality and valuable hiring drive? It is a complicated and long process that helps ensure the best candidate experience and promotes your culture. This is a continuous process that requires collective effort. 
UGC can help build a recruiter-employee brand by providing a more authentic and genuine representation of what it's like to work for a particular company. This can be especially valuable in attracting potential employees who are interested in learning more about the company's culture and work environment. For example, if current employees are sharing positive experiences and photos on social media, potential employees may be more likely to view the company in a favorable light and be more interested in applying for jobs. Additionally, UGC can help to build trust and credibility with potential employees, as it provides a glimpse into the experiences of real people who work for the company, rather than just the polished marketing messages from the company itself.
Benefits of EGC to engage employees
EGC is a vital HR strategy that helps brands recruit perfect people faster. Let's see a few more benefits it comes with. 
A company's culture plays a huge role in seeking new talent. People like to work where they can have creative freedom, have good people around them, and have good growth opportunities. Any company can list out perks and benefits on its careers page but attracting new talent is not so easy. 
As a brand recruiters want people who can adjust to the work culture and environment. Brands like Sennheiser had a dedicated page for their 75th anniversary where employees and customers were using their products. 
They showcased a mix of casual yet professional content. It involved branded content, and community connection, and helped them create a cohesive environment that is appealing to both customers and new employees. 
When you hire someone, the task of a recruiter does not end there. They are required to retain the talent as well. Every job seeker wants to feel proud of where they work, they want to be able to tell everyone about their new job. 
EGC can help them show Employee appreciation towards the brand and the contribution they have made towards the growth of the entire company. Building a culture requires authentic content that makes people trust you. 
This motivates the employees, builds healthier competition, and generates a community within the company. A robust yet easygoing culture engages employees to a great extent. They are motivated to share EGC themselves and inspire the best candidates for the job to get in touch.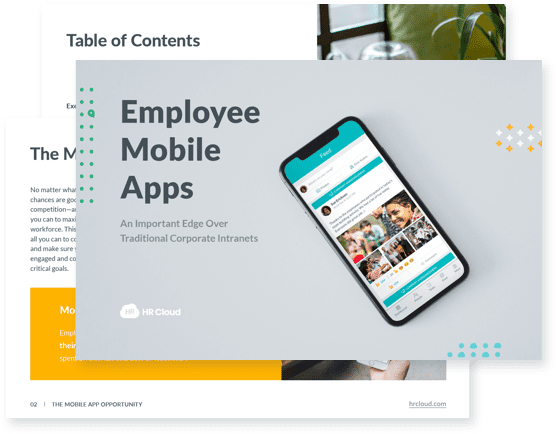 To learn more about giving access to vital HR and work information — even when they're not in the office. Download our ebook now.
Since we have been talking about new talent, let us see how EGC helps build a better brand image and caters to potential or current clients. As we already know, customers have multiple choices nowadays and they want to know whether brands support their employees or not. 
People will not support a brand whose working culture is not as expected. Showing off how satisfied and happy your employees are with you, gives you a kick start and builds a meaningful connection between you and the client. 
Did you know 77% of customers do not care if a brand disappeared tomorrow? They will only care if you make a huge impact on them. And showing off authentic content like EGC can be your best bet. 
Wrapping up!
There is a high possibility that your employees are already creating content for you and are willing to share the same. Regardless of where the content comes from an event or day-to-day operations, every employee has a unique eye for capturing positivity. Start asking them to share content, get their permission to repurpose it, and start building a strong image in the market. 
Author Bio:
Kanika Mathur is a content writer at Taggbox. She is a believer in the power of words. She agrees with Dumbledore when he says,
"Words are, in my not-so-humble opinion, our most inexhaustible source of magic, capable of both inflicting injury and remedying it."
The 40 Best Thank You
Messages for Colleagues
Download our ebook now to learn even more about
building a positive and engaged culture at your company.