If you're opting to work remotely this year, you'll need a set of best practices in place to ensure that you can be productive and successful at the same time. In this blog post, we have shared the best tips to help you make the most of your new work experience. Let's get started!
What Is Remote Work
Remote work is a type of employment that allows you to work from anywhere outside of a traditional office setting. It can be working from home, a co-working space, a café, a different country, or any other location where you have an internet connection and a place to set up your workstation. Not only is this way of working growing, but a recent survey by Upwork found that due to COVID-19, 61.9% of companies were planning more remote work in the following years. So, one thing is sure; this remote work is here to stay!
Benefits of Working Remotely
Remote working offers quite some benefits, and you've probably already heard many of them. They include the following:
Increased flexibility: One of the most significant advantages of working remotely is creating your own schedule and working whenever is best for you. This can be especially beneficial for people with family or personal obligations that make working a traditional 9-to-5 schedule challenging.

Lower costs: When you work remotely, you can save money on commuting costs, such as gas or public transportation fees. And you can reduce your expenses on work-related items, such as professional clothing or meals out.

Greater productivity: Some people find they are more productive when working remotely because they can eliminate distractions and create a workspace conducive to getting work done.

Enhanced work-life balance: Working remotely helps balance your professional and personal life. By eliminating the need to commute, you can have more time for your family, pursue hobbies, or take time for yourself.

Opportunities for global work: With the internet and video conferencing technology, it is possible to work with people from anywhere in the world. Productivity apps and note-taking apps have made working life easier. This can open up new opportunities for employment and collaboration.
Cons of Working Remotely
Working remotely is not just sunshine and rainbows. There are a few potential pitfalls you must be aware of. Some of them include:
Isolation: One of the biggest challenges of working remotely is the lack of face-to-face interaction with colleagues. This makes many members feel disconnected from the team.

Communication issues: It is more difficult to communicate effectively when you are in a different physical location of your team. This can lead to misunderstandings, which can impact the success of projects and tasks.

Struggles with work-life balance: Separating work from home life is the real challenge. You either need excellent discipline or to remove distractions. Lack of balance leads to overworking and burnout if you are not careful to set boundaries and take breaks.

Technological issues: Working remotely often requires using technology, such as video conferencing and online collaboration tools. These tools can be prone to glitches and other technical issues, disrupting your work and making it more challenging to be productive.

Lack of structure: Without the structure of a traditional office environment, it can be more challenging to stay organized and on track with your work. That's why it is important to establish a routine and create a schedule to ensure that you can stay focused and productive.
To learn even more about managing remote teams and keeping employees working at home highly engaged, download our ebook now.
Types of Jobs You Can Do Remote
Many jobs can be done remotely, but choosing one will depend on your skills, interests, and experience. Here are some of them that are well-suited to a remote work environment:
Writer/editor: If you have strong writing and editing skills, you can find work as a freelance writer or editor. This includes working on projects such as blog posts, articles, social media content, and websites.

Graphic designer: Graphic designers can work remotely by using design software to create visual materials for clients. These include logos, websites, social media graphics, and more.

Software developer: Many software developers work remotely, as they can use tools like collaboration software and version control systems to work on projects with their team.

Customer service representative: Some companies hire service representatives to work remotely, handling customer inquiries via phone, email, or chat.

Online tutor/teacher: If you have a teaching or tutoring background, you can find work as an online tutor or teacher. You could work with students one-on-one or in small groups, using video conferencing tools to connect with them.

Virtual assistant: Virtual assistants can help with different tasks, such as scheduling appointments, responding to emails or messages, and contacting clients.

Social media manager: If you have experience with social media and know how to create engaging content, you can work as a social media manager and help clients increase their online presence.
Tips to Prepare for Working Remotely
If you're planning on working remotely for the first time, here are some simple but effective tips to keep in mind.
Invest in a good-quality webcam and microphone to make video calls

One of the most important tips to keep in mind for working remotely is to invest in a good-quality webcam and microphone. This will ensure your communication with the team and clients goes as planned without being interrupted by technical issues.

Get a comfortable chair 
Many people neglect this tip, but investing in a chair can be a game changer if you're working hours in front of a computer.
It is essential to be comfortable during work hours, have your back supported, and stay focused during the workday.
Find a quiet place in your home to work
Removing distractions is challenging if you work from home, especially if you have pets or kids. So, finding a quiet place in your home to work is important to help you stay focused and avoid interruptions. 
Social Intranet Software that Encourages Employee Communication
Finally, a Better Intranet Experience Your Employees Will Love.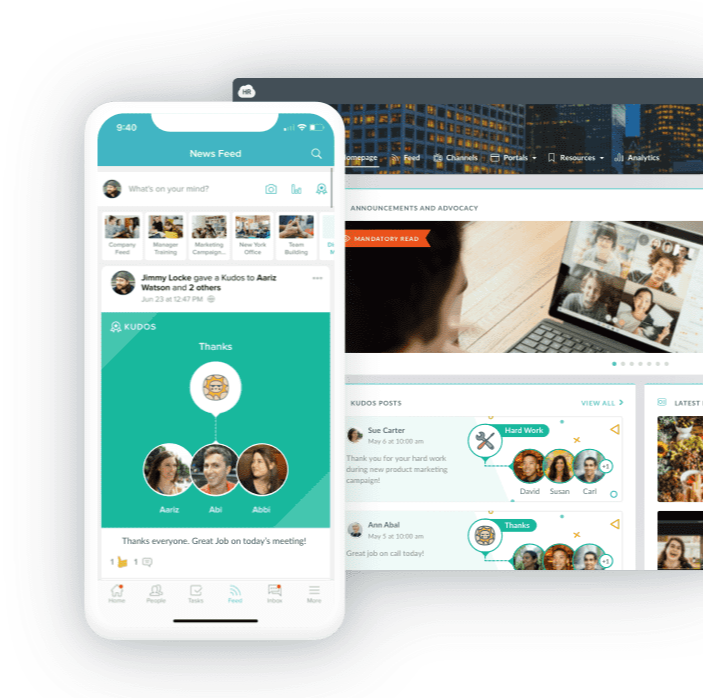 Set up a dedicated workspace 
The ideal solution to this would be to have a home office. However, if this is impossible, you can still create a practical workspace by setting up a dedicated area with everything you need within reach. This includes your computer, equipment, and supplies you need to do your job.
Take breaks throughout the day 
To avoid burnout and ensure that you can be productive, it is important to take breaks throughout the day to move around and stretch your body. Only those who work 8 hours in front of a PC know how consuming and tiring it can be, so remember to take care of yourself.
Disconnect from work at the end of the day
Last but not least, make sure to disconnect from work so you can relax and enjoy your time. Overworking leads to unpleasant physical and mental health issues, so avoiding it can improve your lifestyle in the best manner.
Bottom Line
Working remotely in 2023 can be a rewarding and enjoyable experience with the right mindset and strategies in place. With many people shifting towards this method of working, there's no wonder it can be successful for you too! By following the tips above, you can make the most of your remote work experience and enjoy its many benefits.
The 40 Best Thank You
Messages for Colleagues
Download our ebook now to learn even more about
building a positive and engaged culture at your company.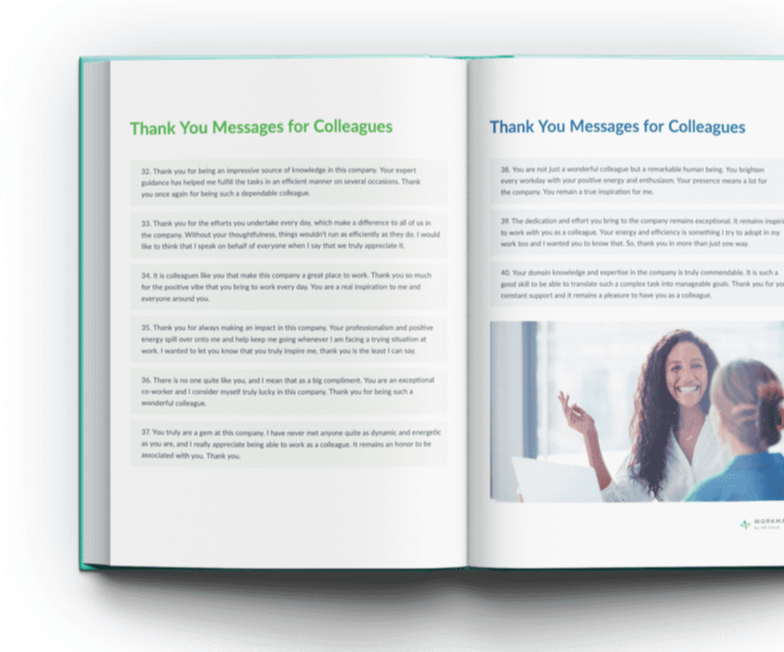 Author Bio:
This article is written by a marketing team member at HR Cloud. HR Cloud is a leading provider of proven HR solutions, including recruiting, onboarding, employee communications & engagement, and rewards & recognition. Our user-friendly software increases employee productivity, delivers time and cost savings, and minimizes compliance risk.