Covid-19 permanently altered the workplace. As we reach the post-pandemic age, many organizations are letting their staff work remotely. In this altered workplace, you, as an employer, must modify your team management strategy to mentor both on-site and remote employees.
With several time zones, departments, quarterly initiatives, and daily workflows, various tools and methods must be used to keep our employees productive, on schedule, and satisfied in the workplace.
If your firm is new to an all-remote or hybrid environment, we'll go over the top tools for hybrid teams you should try.
Online Whiteboards
Online whiteboards are ideal for a hybrid office since they allow your team members to collaborate effectively from anywhere. Online whiteboards are an online, shared workspace where teams can use visual elements to express ideas, collaborate visually, and support a variety of different activities.
Hybrid Video Conferencing
Video conferencing is a common feature in distant hybrid workspaces. It has mostly supplanted both routine meetings and lengthy in-person workshops.
Zoom
Zoom is the standard program for virtual meetings and will undoubtedly be used in your hybrid workspace. Zoom is simple to use and saves a lot of data. Zoom makes it easier than ever to hold small and big video meetings and allows you to do it from anywhere.
GoToMeeting
GoToMeeting is video conferencing software for hosting online meetings. You can schedule regular meetings, training, and brainstorming sessions with your team. GoToMeeting makes collaboration simple. Multiple people can share their screens, draw and highlight key areas, and collaborate using a virtual whiteboard.
Microsoft Teams
Microsoft Teams is a group communication software that can assist organizations increase team collaboration. It may be used to chat, make video calls, and share files and its screen-sharing feature and virtual whiteboard might also help you convey your thoughts. Furthermore, Teams works well with the Microsoft Office suite. As a result, your team will be able to work quickly, and you will be able to monitor progress at any moment.
Instant Messaging Tools
HR Cloud
HR Cloud provides a powerful and comprehensive solution for HR teams. It streamlines and automates manual procedures so that teams can concentrate on more important projects. It also accelerates the onboarding process for new hires, ensuring that they are up to speed quickly and are able to make an immediate impact. Additionally, HR Cloud enables teams to effectively manage communication and collaboration to support employee engagement. By providing an easy-to-use platform, It gives HR teams a major advantage over traditional approaches. It makes it easier to manage complex processes and ensure that the entire team is aligned and working towards a common goal. With HR Cloud, HR teams can take their operations to the next level and create a working environment that is productive and engaging.
Slack 
Slack is a team communication solution that can assist you in managing various ongoing interactions. Each team, project, and topic can have its own channel to keep related messages and files together. You can also have one-on-one talks with Slack. Slack may be used for voice messages, voice calls, video meetings, and text messaging.
World Time Buddy 
World Time Buddy is useful for keeping remote teams interested. It is software that converts time for distributed teams all across the world. It also allows you to book meetings and conference calls in different time zones. Finally, its world clock enables you to send properly timed emails that won't get lost in overflowing inboxes. In a nutshell, World Time Buddy assists multinational teams in achieving optimal connectivity.
Slack 
Slack is a team communication solution that can assist you in managing various ongoing interactions. Each team, project, and topic can have its own channel to keep related messages and files together. You can also have one-on-one talks with Slack. Slack may be used for voice messages, voice calls, video meetings, and text messaging.
Project Management Software
Product management solutions are critical for product teams working in-person or remotely and are absolutely necessary for teams working in a hybrid workspace.
"I can't say this enough: Without HR Cloud, we could not have communicated important project information or demonstrated that we could take on an increased workload. We now provide real-time workforce statistics and productivity reports that have helped us win more projects."
Shirley Garcia Auditing and Operations Administrator of Medlinks Cost Containment, Inc. and Medlinks Staffing, LLC
Chisel
Chisel enables you to feature management, create product roadmaps, and prioritization to help you realize your vision. Chisel also has some unique capabilities that allow you to perform team alignment exercises with collaborative prioritizing that involves both your team's and stakeholders' participation.
You may also use streamlined user surveys in your product plan to effectively engage with your target market and meet their consumer wants. If you're creating a product and want to improve your efficiency, Chisel is a must-have tool.
Google Docs
 Google Docs enables our team to work together on projects more effectively. Before posting a blog or social media article, our marketing team can edit one another's work by making comments and edits—highlighting what needs to be corrected and signalling when the change is complete.
Asana
Asana is a project management solution that allows you to keep track of many initiatives and assignments. You can instantly see the team calendar, project statuses, and outstanding approvals, and you may make tasks, assign them to others, and engage with them straight from there. Asana organizes files, directions, and other data for easier management. This tool could be useful if you want to create an agency dashboard.
G-Suite 
G-Suite is an integrated suite of software that is required to manage projects remotely. It includes facilities for saving and editing all documents and spreadsheets online.
In addition, G-Suite enables access to shared team calendars. It might assist you in remembering crucial events and reminders. It also makes it simple to communicate with specific team members, organize meetings, and share quick notes.
Others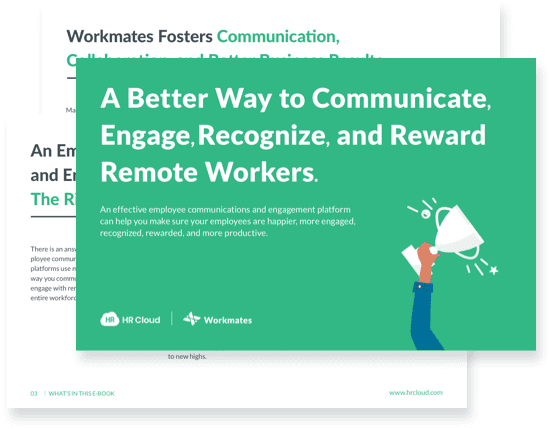 To learn even more about managing remote teams and keeping employees working at home highly engaged, download our ebook now.
Virtual Private Network – VPN
One of the most difficult components of the virtual workspace is ensuring data security. When a large or small organization conducts all of its operations online, it wants to ensure that its security is impeccable. It's even more important in a hybrid workplace because there are so many different employees, each with their own internet connection and personal networks, that could pose a new risk.
Investing in a firewall-protected virtual private network (VPN) as a business is crucial since it secures your data from anywhere, whether you work from home or at the office. Consider using a VPN and developing a security strategy for your team if you work in an area requiring a high data security level.
Shared Cloud Storage 
File storage is a major unknown in the hybrid workspace, and you simply cannot rely on individuals to keep these things organized. Using a shared cloud platform for storage is ideal for the hybrid workspace since it allows employees to freely and collaboratively access files.
Google Drive 
Google Drive is the most popular file storage platform, offering a centralized location for teams to create, edit, share, and collaborate on a variety of documents. Excel spreadsheets, customizable presentations, simple word documents, and much more are available.
Google Drive is fantastic because it is accessible from everywhere, including your mobile device, and it also has a business version. The corporate edition is designed to handle big numbers of data and collaboration, making it an ideal addition to your hybrid workspace.
HR Management Software
HRMS Software is a cutting-edge HR technology that handles and automates all critical HR tasks. It aids in HR processes such as payroll processing, attendance monitoring, employee information management, onboarding, and many others. It saves time and increases organizational productivity. HRMS Software aids in the efficient and error-free management of all human resource management functions. As a result, it improves your company's overall efficiency and productivity. The HR Clouds Management system also allows for simple and secure access to the personnel database, saving the time and effort required to administer it effectively.
Conclusion
Employees are your most valuable asset. They have the power to build or break your firm. To promote effective team collaboration, today's hybrid and remote workforces demand access to accessible and powerful collaboration solutions. The tools listed above will assist you and your team in working together. And if used strategically, these tools will undoubtedly boost your team's productivity.
The 40 Best Thank You
Messages for Colleagues
Download our ebook now to learn even more about
building a positive and engaged culture at your company.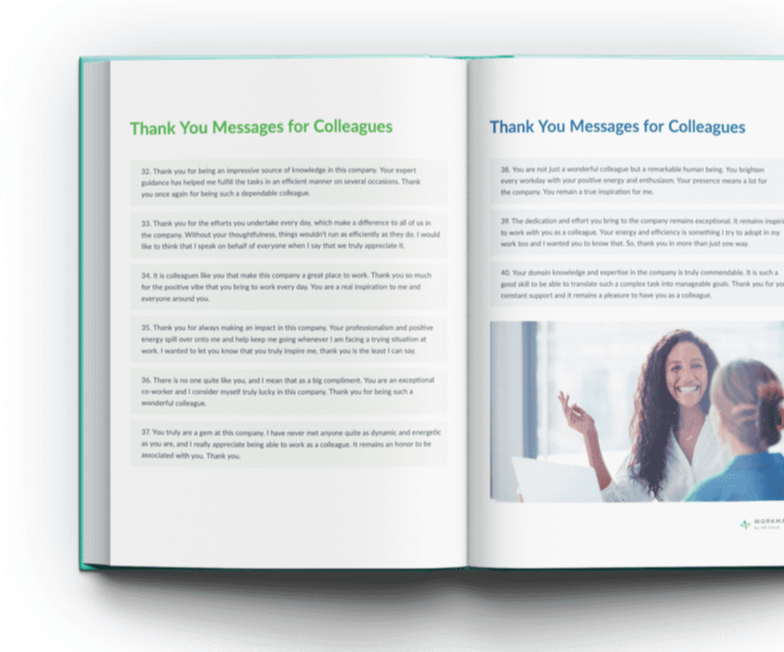 Author Bio:
Akhila is a senior content writer and editor of BetterPlace Safety Solutions Pvt. Ltd. one of India's leading providers of Staffing and HRMS Software. She is smart and has more than 9 years of experience in Staffing and HR domains.